Power electronics
Providing various digital power control systems based on grid interconnection technology

In order to pursue the coexistence of economic growth and decarbonization, it is essential not only to shift to using renewable energy, but also to make efforts to save more energy and to build a distributed power supply infrastructure through the development of innovative technologies.
Our power electronics technology, bidirectional inverter/converter products and solutions have been supporting emergency power supply systems, V2H that utilizes the batteries of electric vehicles, and VPP that provides stored electricity from the grid, which are all in increasing demand these days.

What we can do for you
---
Our power electronics products and solutions are full of ideas that can solve customer's problems. By providing our customers with a clear picture of the know-how that we have acquired through many development cases, we are able to lower the barriers for introducing technology and achieve early market entry.

Regardless of your development phase, we can provide you with the best solution. For example, reference boards, software libraries, support for certification, device selection, downsizing, contract development, etc.

Our mission is to ensure that we do not miss the opportunity for commercialization/research and development by our customers.

Our strengths
---
We have been developing software and hardware for power supply/battery control, communication, and motor control consistently for 20 years since our establishment. Our industry-leading technology in power generation, storage, and conversion has been adopted in many products.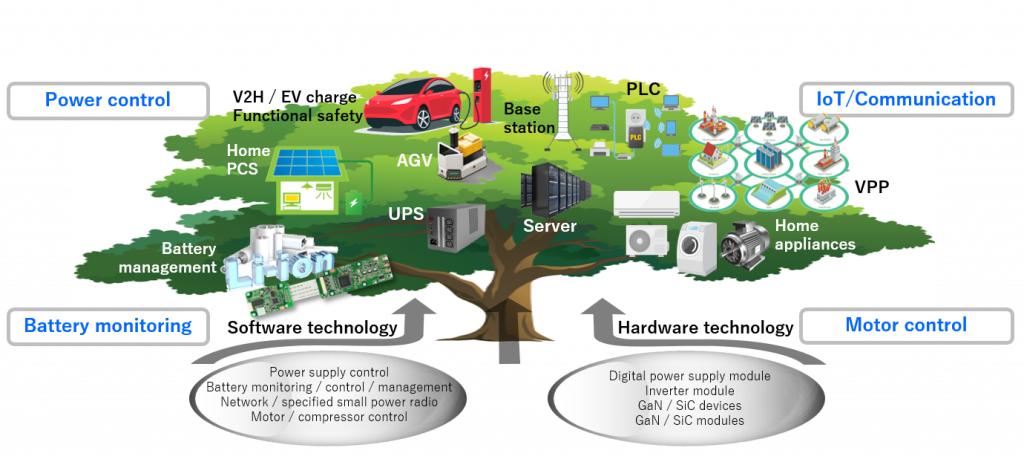 Product lineup
---